In the weekend leading up to Patriot's Day, which falls on the third Monday in April, the city of Boston, Massachusetts fills up with thousands of people raring to run the Boston Marathon, the unicorn of amateur road racing.
The New England streets positively hum with energy, and are tinted blue, yellow, and purple, thanks to the hordes of runners wearing Adidas' official race kit (at $120 per jacket, what a delicious weekend for their books). When I was there, it struck me that unlike most races, where the start line is a decent mix of experienced marathoners and first timers, everyone around me was a seasoned runner. To enter the ballot for Boston, you have to run a marathon in a certain qualifying time (yes, I know… running a marathon to run a marathon). Currently that's 3h30 for women and 3h00 for men. But entries are usually oversubscribed, so you actually have to run a few minutes below that time to be guaranteed a spot.
As a result, Boston marathon is seen as the apex of amateur marathon achievement. The sixth star of the World Marathon Majors, the one you can't just lucky dip or pay for. It's almost indecently appropriate that the race's logo is that elusive beast of myth, a unicorn – a symbol picked by the Boston Athletic Association way back in 1890. Now, you can buy unicorn hats, temporary unicorn tattoos, or a plushie called Spike.
The race itself is basically a straight line, starting in Hopkinton and ending right in the centre of Boston on Boylston Street. This, combined with its net downhill elevation, means that it's not actually eligible as a world record race. To qualify, "the start and finish points of a course, measured along a theoretical straight line between them, shall not be further apart than 50% of the race distance." In other words, it can't be a point-to-point. Which meant that when Geoffry Mutai ran a 2:03:02 at Boston in 2011, it wasn't a world record, merely "the fastest marathon ever run".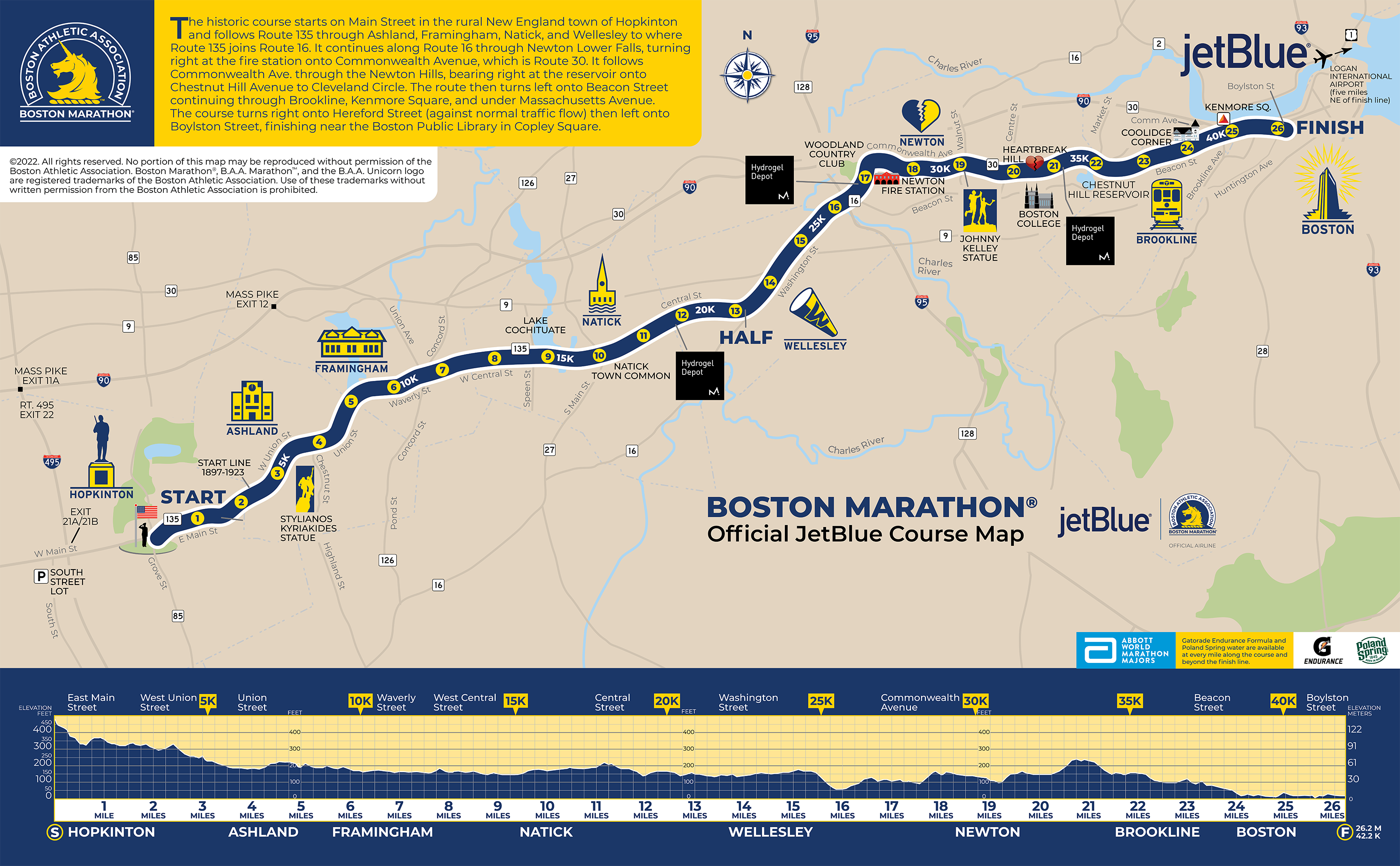 The net drop in elevation sounds like a good thing, too, doesn't it? And looking at that elevation chart above, runners should absolutely fly through the course.
However, if you ever make it out to Boston and ask for tips from the grizzled old timers (and they just love doling out advice – go on, make their day), every single one will tell you don't go out too fast. The first three kms are mainly a downhill slope that, on fit and rested legs, make it tempting to barrel off the line at a speed that will burn you out. Perversely, thanks to nerves, and taking these repeated warnings to heart, I went out way too cautiously, putting me on a back foot from the start.
The other problem is that running quite fast downhill for many kms absolutely trashes your quads. I've run a few marathons now, and I don't think my legs have ever taken that long to recover. Back in London on Thursday, I was still eyeing up flights of stairs with fear.
To get out to Hopkinton on Monday morning, nearly 30,000 runners clambered onto yellow school buses, queuing near the finish line that we'd drag our tired bodies across many hours later. And it is many hours later. We dropped our bags and got in the queue at 7:30am, boarded the buses, drove the 26.2 miles south-west, and arrived in the start pens at about 9:30am, with just enough time to queue again for the loos, slather on Vaseline and suncream, and walk the mile down the road to the start line, with my wave to be set off at 10:30am.
At every point, I was thanking the weather gods that it was dry and not too cold. Waiting around in wind or pouring rain – which is more common than not in Boston in April – would have been utterly miserable. And as you drop your bags before you get on the buses, you have to take layers that you don't mind discarding at the start, which means a lot of great charity shop outfits. Pyjamas were very in this year.
As for the route itself, it was mostly a pretty blur. Traditional wooden New England houses, trees, green, supporters in front of their houses with barbecues and water stations and sweets to hand out to runners. The scream tunnel at Wellesley College which means you're halfway, the girls hanging over the barriers and hollering their lungs out. The right turn next to the fire station at mile 17, your warning that you're about to hit the infamous Newton hills, culminating in Heartbreak Hill, which isn't so much vicious in its own right as because it comes at mile 21, just when you're ready to hit the wall.
And then, finally, finally, the right turn onto Hereford and left onto Boylston, only half a mile (the longest half mile of my life) to stagger to the famous finish line, legs screaming for relief.
My favourite part of a marathon is that no man's land after the finish line. Not just because you can at last – thank the lord – stop running, but because of the camaraderie, the nods and weary smiles between grateful finishers, as volunteers wrap foil blankets around our shoulders and force high-calorie snacks into our hands.
They say it takes a few tries to get Boston right. My first thought was that I'd be alright never trying it again but, as always, as the hurt fades, the intentions creep back in. Who knows; it's a long and expensive way to go to run, but I know I could train smarter, and be much better prepared for the course. Maybe Boston's done what everyone said it would, and got under my skin.